I love Election Day. I love living in a swing state and I already can't wait for the nonstop election coverage when the polls close. Here are two of my favorite election-day designs I saw today that are making the election that much more exciting to follow. I hope you all voted today!
#1 - Get this on your phone if you can't be glued to your TV like I will be . . .
Presidential Election Race 2012 app
The first one is the Presidential Election Race 2012 app available for your iPhone or iPad. This app lets you follow the electoral vote scoreboard and state-by-state poll results, check out a map of how each state is trending, see the history of how each state has voted since 1940 and keep an eye on swing states like Ohio, among other things. Check out everything this app has to offer and download it from the Apple store
here
for 99 cents.
#2 - Take a look at how many ways this election could go . . .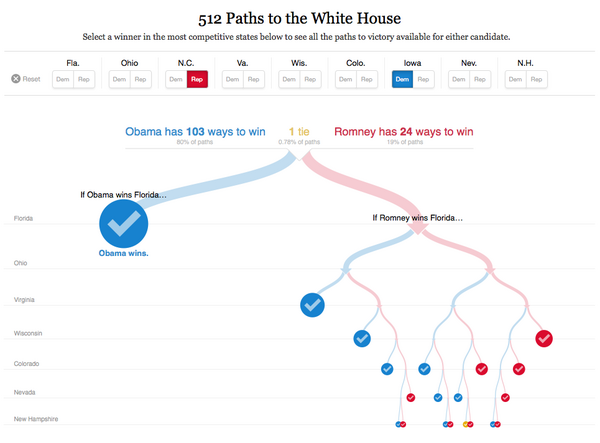 Photo via Jim Roberts' Twitter (@nytjim)
I spent a while playing with
this interactive
from
The New York Times
this morning, it's so fun! There are 512 different paths to the White House and this lets you see each and every one of those outcomes. Also, The New York Times will be offering free access to
Web
and mobile (they have an app as well!) election night coverage, so be sure to check that out.